By Gottfried Konecny
In Novosibirsk in Siberia the second exhibition and conference "Geo-Sibir 2006" took place from April 24 to 28, 2006.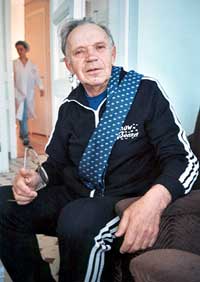 The organisation of the conference was in the hands of the Siberian Academy for Geodesy, and the exhibition was arranged by the company "Sibirskaja Yarmarka".
A great number (several hundred) conference papers in Russian language demonstrated the traditional professional high-level knowledge of the Siberian participants, mostly graduates of the well known NIGAIIK (Novosibirsk Academy for Geodesy and Cartography).
The main commercial sponsor was the company Leica.
But also the participation at the meeting from outside Siberia was remarkable. The MIIGAIK (Moscow Academy for Geodesy and Cartography) was represented by its rector, Cosmonaut V.P. Savinych and the vice rector Yambayev. Of course, Russian companies, such as Roskartografia were well represented in the exhibits.
But there was also good international participation. Besides the ICA president Milan Konecny from the Czech Republic and the neighbours from Mongolia the German Association for Surveying and Geoinformation provided a large delegation, e.g. Prof. Günter Schmitt from Karlsruhe, Prof. Lothar Gründig and Prof. Horst Borgmann from Berlin.
Director of the event was the rector of the Siberian Academy for Geodesy Lesnych together with his vice rectors Seredovic and Tatarenko.
The photogrammetric participation at the conferency by G. Konecny was more of private nature, but it was highly welcomed by the Siberian academy. For it offered me an opportunity to see again a highly valued international photogrammetric colleague and friend, Ivan Antipov.
Ivan was ISP(RS) Commission President from 1976 to 1980, and ISPRS Vice President from 1980 to 1984. For me this was a reason to appoint him, provided Shunji Murai raises no objections, as member of the "White Elephant Club" of seniors of ISPRS, a club, which was founded in Chiang Mai in 2003.
Ivan, with his almost 80 years of age is still an active photogrammetrist. Already in the 1950's he became well respected on account of his theory of analytical affine restitution. Today he still improves his bundle block adjustment programs, in a similar manner as Karsten Jacobsen does it in Hannvoer.
The image shows Ivan after receiving the "White Elephant" tie. For Ivan this was a special joyful event. It happened in a hospital in Novosibirsk, where he was recovering from a mild stroke.